The accounting office of Herrera CPA was established in 1997 as a sole proprietorship.
In 1998, the South Texas Business Fund, a non-profit organization of the City of San Antonio, contracted the Firm as outsourced professionals, to handle their accounting and financial reporting services for 12 years, until it merged with another entity.
Later in 2009 the Firm became a  Professional Corporation.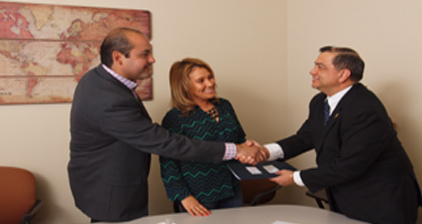 In 2010, we decided to direct our efforts to specifically focus on the services of Management Advisory Strategies, Strategic Tax Planning, IRS Representation, Tax Preparation and Accounting Support.
We are an Accounting Firm focused on providing advisory services at a business level. We work hand in hand with the board of directors and top management to help them find solutions to the challenges or difficulties that may arise within the institution in order to help them achieve their goals.
Due to our experience helping entrepreneurs for more than 25 years, we are prepared for the immediate implementation of the strategies that better match the business objectives, based on a detailed analysis of the possible alternatives, likewise, we help design contingency plans for unexpected situations while:
Increasing Profitability

Maximizing Business Value

Reducing Stress during Performance
We are citizens of the world culturally, spiritually and in every way. 
We want to help companies achieve their commercial and financial objectives avoiding any unnecessary stress thanks to the complete confidence that we carry out our work with responsibility and honesty.
Honesty

Transparency

Professionalism

Quality Control

Social Responsibility